How to Protect Your Braces While Playing Sports
Fall is coming to a close and winter sports are starting! Here at Berkman + Shapiro Orthodontics, we get plenty of concerned patients wondering if a mouthful of braces is going to keep them on the sidelines the whole year. Some patients might even question the timing of getting braces for fear that they won't be able to play the sports they want to like their peers.
The good news is you can absolutely play sports while wearing braces!
We love that our patients are active, but it's important to make sure that you're taking care of your smile while you're out there having a good time, no matter what sport you're playing. Let's take a look at the best way to keep your mouth safe while playing a sport!
Regular Mouthguard vs. Orthodontic Mouthguard
The absolute best way to protect your teeth while playing a sport is by wearing a mouthguard. They are a simple and effective way to keep your teeth from receiving too much damage if you get a little roughed up out on the court. It might seem obvious to wear a mouthguard during a high-contact sport, like football or basketball, but we even recommend you wear one even during light-contact sports like baseball or volleyball to make sure your mouth can take whatever hits come its way. Elbows often come out of nowhere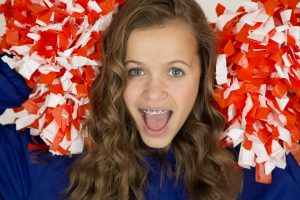 Regular mouthguards are thermoplastic, which means that they're made to be heated up and molded around your teeth, and even around the brackets. This can be an issue though: because they are molded right to your teeth, they don't allow movement from orthodontic treatment. This means the mouthguard will actually work against the smile you've been working so hard for! Not to mention that it won't fit for too long due to your ever-shifting teeth. Another problem with these mouthguards is that the mold will fit a little too well around the brackets of your braces. If you get hit a little too hard, the force of it can potentially knock the brackets right off your teeth. This can lead to prolonged treatment and more orthodontist visits to get it fixed. While we enjoy getting to see our patients, we want you to enjoy your new smile as quickly as possible!
The best type of mouthguards for patients in braces is an orthodontic mouthguard. These mouthguards are a little different than regular mouthguards: these mouthguards are made with high-grade silicone and it cushions your lips from bumping and rubbing against your teeth. This can be super helpful because if your lip were to get caught in the wings of a bracket, it can be extremely painful! If your lip swells, it can get pinched tighter and tighter to the point that only your orthodontist can remove it. This mouthguard is also built to protect the brackets on teeth and softens any blow they can receive. They're typically a little larger than regular mouthguards to make room for the braces, but they're made to be just as comfortable as regular ones. We offer this type of mouthguard for all of our patients here at Berkman + Shapiro Orthodontics.
You can also find mouthguards made specifically for athletes in braces online and in some sports goods stores. Some brands to look out for are ShockDoctor, Gladiator, and Vettex. Even though these may cost more than regular mouthguards, it's well worth the money for the extra comfort and protection. Although these are very effective mouthguards, we will always recommend a custom-sized mouthguard selected by us at Berkman and Shapiro to provide the best protection for your smile.
Taking Care of an Orthodontic Mouthguard
Once you have an orthodontic mouthguard, it's very important to take care of it properly so that you can continue to use it. Bacteria can grow on mouthguards, so you'll want to clean it every time you take it out after playing a sport. Use a soft toothbrush and a good toothpaste to clean the mouthguard gently, or an anti-microbial solution can be used to rinse it to kill bacteria. You can also use a denture cleaner tablet in water and let the mouthguard soak overnight. Make sure you keep the mouthguard in a case when you're not using it, and don't leave it out in the sun when you're not using it. As we say, "In your face or in the case!!"
What if I still have questions?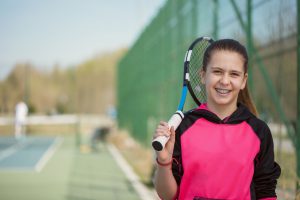 At Berkman + Shapiro, we want to do everything we can to help you protect your teeth without having to forfeit all your favorite sports activities. If you're worried about not being able to play sports with braces – or even just worried about braces in general – we urge you to schedule a free consultation with us. Our friendly team is more than willing to help talk you through the steps of getting braces and how to keep them safe while playing sports. If you're in the Commerce Township area, stop by our office or give us a call at 248.360.7878.