Invisalign for All Ages
Braces just aren't what they used to be—and that can be a really great thing! At Berkman + Shapiro Orthodontics, we're really excited about introducing patients to Invisalign aligners. They are incredibly versatile and complement even the most active lifestyles. They are clear, removable, and can do amazing things. Even more than that, their benefits include easier brushing and flossing and no limitations on the foods you can enjoy. Since we have patients of all ages who are looking for orthodontic treatment, we really love that Invisalign is ideal for both teens and adults!
Many of our patients have asked, "Am I too old for orthodontic treatment?" Our answer: Absolutely not! (BTW, The current record in our office is a 94-year-old patient who had her lower incisor crowding corrected with us. Please give us a call if you're qualified and interested in breaking that record!!)
It's never too late to straighten your teeth, so long as they are healthy. And remember, taking orthodontic action now can help reduce oral health problems later on. One of the great things about Invisalign is that it works for everyone from teens to senior citizens because it's such a versatile orthodontic device!
Why does Invisalign work so well for some many patients? Let's take a quick look at how it works and how it can help you!
What is Invisalign? How does it work?
The Invisalign system is a brand name for what is called CAT–Clear Aligner Therapy. (Much like Kleenex is a brand name for facial tissue.) There are many manufacturers of clear aligners. With any aligner system, a treatment plan is developed. Then, a series of clear, removable, plastic aligner trays are fabricated to shift your teeth into a new position over time as you progressively change the aligners according to the prescribed schedule. The aligners are completely custom and are designed by us using our 3-D scanning technology. In many cases, they work as successfully as traditional metal braces.
No matter the patient's age, the process for getting Invisalign aligners is the same for everyone. First, Dr. Berkman or Shapiro will evaluate your gums and bones which support the teeth to ensure they are strong and healthy. We'll also review your dental history, as well as your bite and the result you desire. On our end, we'll be using 3-D computer modeling technology to design the CAT sequence which is best for you.
Once your aligners arrive, you will typically wear them for 20-22 hours each day. You will be able to remove your aligners any time you desire, for a social occasion, etc. Every one to two weeks, you will need to replace your aligner with the next one in the series, as prescribed. As you progress in your treatment, your teeth will gradually move little by little with each aligner until you have used your final aligner and your teeth are in their new, straight positions.
Because of the advanced virtual modeling technology we employ, the visits you can expect with our office will be fairly infrequent. In many cases, just once every 3 months or so to be sure that your treatment is proceeding as planned. While individual cases may vary, most patients will have a treatment time of nine to fifteen months for completion.
All the benefits, none of the fuss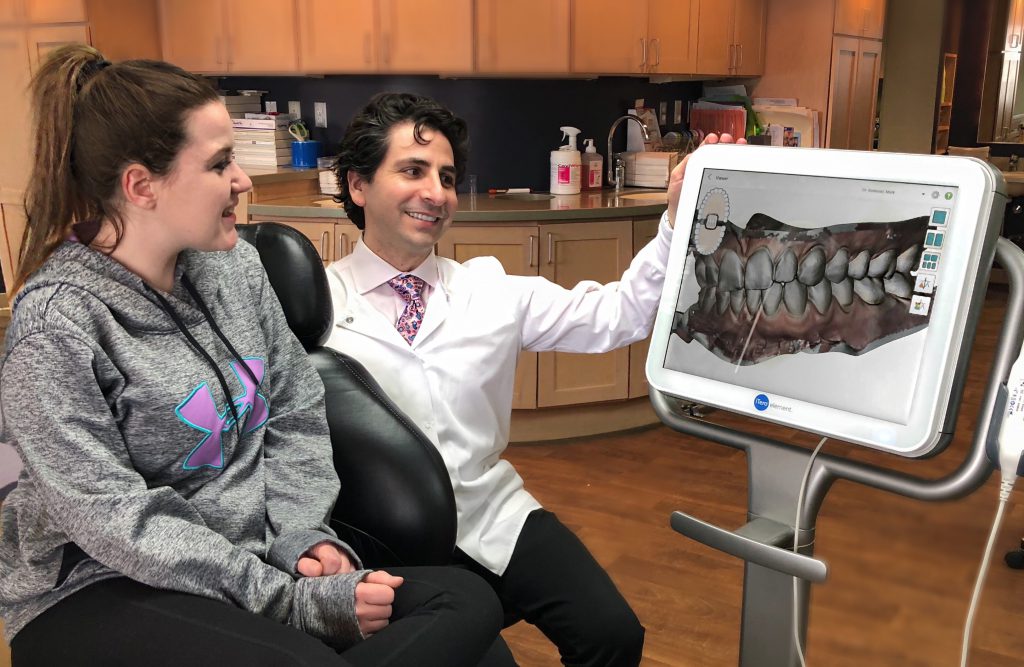 As you can imagine, one of the biggest benefits with Invisalign is its aesthetics, making it ideal for teens and professional adult patients.
Another benefit of Invisalign is it's removable, and that means no foods are off-limits! You can still enjoy popcorn, caramel apples, and any other hard or sticky foods you love. All you need to do is remove your aligners when you eat.
Brushing and flossing are also easier with clear aligners. You take them out to brush and floss your teeth, and the aligners themselves are quite easy to clean as well.
Finally, many people procrastinate when it comes to orthodontic treatment because they fear the pain of both having the braces put on and the pressure, scrapes, and irritations that can sometimes happen with traditional braces. Clear aligners are made of smooth plastic which aren't very irritating to cheeks or gums. You may feel a little soreness when you change aligners, but overall, Invisalign offers a very comfortable way to straighten your teeth!
Orthodontic treatment for all ages
It's true that most people we see with braces tend to be younger, such as teens and young adults. However, more and more adults of all ages are choosing to get orthodontic treatment for issues such as misaligned teeth, jaw problems, and a host of other issues. Why? Technology in orthodontics is evolving and innovating fast, and people of every age are now able to reap the benefits of a beautifully straight smile without interrupting their lifestyle.
Physical appearance plays a big role in self-confidence, no matter our age. As Invisalign is nearly invisible, the insecurities that come with traditional braces are usually not a concern. Another bonus? Since you can remove Invisalign aligners, you can take photos at prom, weddings, and even on vacation that show off your great smile along the way.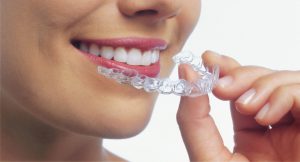 There are not only cosmetic benefits to using Invisalign but also some overall health benefits as well! Having your teeth and jaw aligned can improve the health of your mouth and body. In fact, gum disease can increase your risk of heart disease by over 25%. With frequent checkups and a greater focus on your mouth, you will be able to experience greater health and take preventive action before problems arise.
Invisalign for Every Age at Berkman + Shapiro Orthodontics
It doesn't matter if you are looking forward to college or getting ready to retire, Invisalign Clear Aligner Therapy may be for you! If you are in the Commerce Township area and are looking for a discreet way to straighten your smile, contact us at Berkman and Shapiro Orthodontics to set up a consultation. We can't wait to help you achieve the beautiful smile you've always wanted!